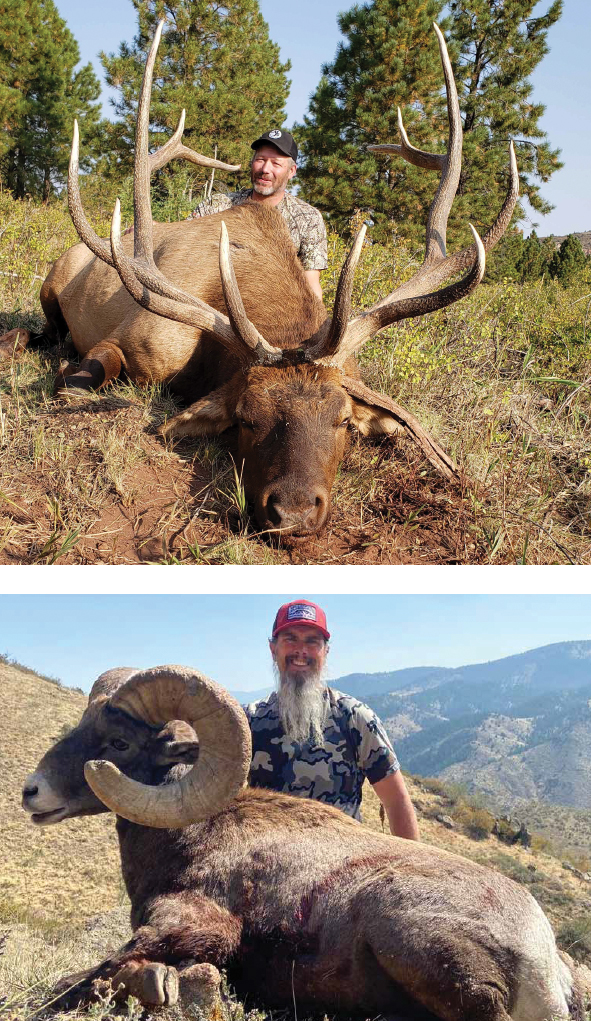 Let's face it, the management of Big Game and wildlife in the Western U.S. costs a lot of money, and the reality is it's going to continue to cost money.  As hunters, we generally understand this cost and the benefit, and have done the majority of the heavy lifting when its comes to funding programs that improve the health and populations of wildlife, and we plan to continue funding it.  We also love to pursue Big Game because we love the adventure and challenge, we want that as our food source, and we know hunting is a proven wildlife management tool.  Utah's Conservation Permit Program merges these aspects together by offering specific premium hunting permits through an auction that massively funds wildlife projects.  These permits generate big dollars, which are then allocated to organization such as RMEF, MDF, NWTF, SCI etc… to fund wildlife management programs.  So when you see an auction at this year's Western Hunting and Conservation Expo, know that some of these fall under the Utah Conservation Permit Program.
A big reason we partnered with Mossback Guides and Outfitters is because of their knowledge and experience dealing with programs like this.  They understand which tags will work best for each type of hunter, and they'll be honest when they think it won't be a good fit.  They also thoroughly understand the permit allocation process and how to secure the best tags.  Plus, they understand how the money is spent, and fully appreciate this is a main staple in funding the future of wildlife management.  Tags will be available for Elk, Mule Deer, Sheep, Moose, Bears or Goats at this year's Western Hunting and Conservation Expo, and with help from Mossback they can guide you through this process and increase your odds exponentially.  It all starts with a simple phone call to them.  And the best part is knowing that you are doing your part by supporting conservation at a boots on the ground level.  Which is why these are 100% conservation tags that can be written off as a tax deduction.   The mission of this program is clear, the results are transparent and undeniable. Utah showcases some of the biggest animals in the west for a reason. And a big part of that is management and conservation efforts getting financed by hunters like you.
[ Below is a segment from the Utah Conservation Permit Program Annual Report… ]

Utah's Conservation Permit Program benefits all Utah hunters. What started in the early 1980s as a creative approach to raise needed funds for wildlife conservation has blossomed into a well-regulated program that raises millions of dollars each year. Those dollars are then invested back into wildlife conservation. This novel approach to funding conservation has allowed the Utah Division of Wildlife Resources (DWR) to seize opportunities, grow the state's wildlife populations and improve wildlife management. 
Origins of Utah's Conservation Permit Program
Historical accounts and archeological evidence indicate that bighorn sheep were once abundant across much of Utah, but in the early 1970s, many of Utah's bighorn sheep populations were struggling or had altogether disappeared. There was a very limited distribution of desert bighorn across southern Utah. Biologists observed large tracts of unoccupied desert bighorn sheep habitat and, at the same time, became concerned about the many desert bighorn concentrated in Canyonlands National Park. Wildlife managers recognized that the high bighorn densities in Canyonlands were not sustainable. Those excess bighorn presented wildlife managers with both an opportunity and a dilemma.
The conservation permit strategy was effective, and over several years, the DWR used the proceeds of auctioned desert bighorn sheep conservation permits to fund a successful translocation program. That program led to the establishment and/or supplementation of new desert bighorn sheep herds in the San Rafael-North, San Rafael-South, Arches National Park, Henry Mountains, Capitol Reef National Park, Kaiparowitz-East, Kaiparowitz-Escalante and several other desert bighorn sheep units.
The early success of the Conservation Permit Program led to its expansion. The program now includes and benefits the following species: bear, bighorn sheep (desert and Rocky Mountain), bison, cougar, deer, elk, moose, mountain goats, pronghorn and turkey.
How the program works:
Conservation permits represent only a small percentage of total hunting permits issued, but they can produce big results. The number of conservation permits allocated for a given species is based on how well a population is doing (e.g., population size, increasing trends and long-term health) and the number of hunting permits available to public hunters. As public hunting opportunities increase, conservation permits may also increase, with a maximum of eight conservation permits per hunt unit. After the Utah Wildlife Board approves specific permits and numbers, the DWR partners with wildlife conservation organizations to sell the permits.
Conservation organizations that participated in the program in Fiscal Year (FY) 2021 included the Mule Deer Foundation (MDF), National Wild Turkey Federation (NWTF), Rocky Mountain Elk Foundation (RMEF), Safari Club International (SCI), Sportsmen for Fish and Wildlife (SFW) and Utah Wild Sheep Foundation (UWSF). Other conservation groups can also apply to participate by following the procedures listed in Administrative Rule R-657-41, which is the rule that regulates the Conservation Permit Program.
The conservation organizations market, promote and auction the permits. These auctions typically coincide with chapter banquets, expos or other fundraising events. The goal is to maximize revenue to fund wildlife conservation activities. After the auction, the conservation organization returns 30% of the money raised directly to the DWR. The conservation organizations may keep up to 10% of the proceeds to cover administrative costs, and the remaining 60% is held by the conservation organizations for a short time as they work cooperatively with the DWR to choose approved conservation projects to fund. As a result, hunters are able to identify and prioritize projects that matter to them and then direct conservation permit funding to those projects. It gives conservation-minded hunters a strong voice and encourages cooperation and collaboration between the DWR and participating organizations.
The funds raised through the Conservation Permit Program are reinvested back into Utah's wildlife. Conservation projects are wide ranging and provide diverse benefits. With these projects, wildlife managers can establish new populations, augment existing populations, improve wildlife habitat, monitor for disease and conduct essential research. The program provides resources and tools that let wildlife biologists and hunters accomplish remarkable things for wildlife and habitat conservation.
Having a source of funding available to wildlife managers in a timely manner can make all the difference when it comes to managing wildlife. Wildlife and their habitats are dynamic, and changes can happen rapidly. The desert bighorn sheep source population in Canyonlands National Park experienced a die-off shortly after the translocations in the 1980s occurred. Had wildlife managers been forced to pursue traditional funding, which is typically limited in availability and takes much longer to obtain, that opportunity might have been lost.