Marketing for Hunting & Fishing Property
MARKETING YOUR PROPERTY

Selling a property with St. James Sporting Properties takes traditional marketing to the next level! We have implemented a multi-faced marketing program that maximizes the exposure of your property to prospective buyers across the globe!
We will advertise your property everywhere you'd want it to be seen. Top real estate websites, social media, direct mailers, tradeshows, email campaigns, and our own exclusive sporting magazine are just a few of the marketing avenues we utilize for showcasing properties. St. James Sporting Properties has the connections and experience to break through the noise and get your property seen by the people who want to buy it the most.
PHOTOGRAPHY & VIDEO
Your property is unique and boasts a variety of valuable attributes. To maximize your land's value to prospective buyers, you must highlight each unique feature to set it apart from other high-profile ranches. The team at St. James Sporting Properties understands the best way to represent your ranch is to become intimately familiar with your land. Our agents invest a significant amount of time to ensure we capture a wide variety of high-quality photos, high-definition videos, and aerial photography to market the most sought-after aspects of your sporting property.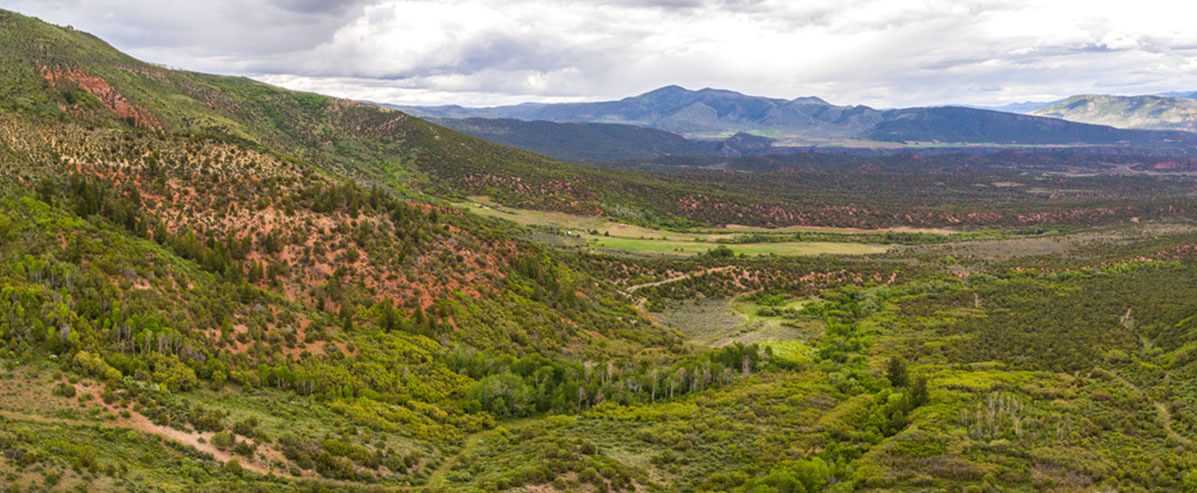 ---
DOCUMENTING WILDLIFE
Showcasing the presence of wildlife & game animals on your ranch may be the most critical tool to effectively market your property. Every St. James Agent receives professional training to document wildlife and accurately assess the recreational value of your land. We dedicate countless hours in the field with a hunter's mindset to become intimately knowledgeable of your land before ever listing your property. By accurately documenting the wildlife on your land, we find that the often-unspoken recreational value far exceeds the property's agricultural or income value.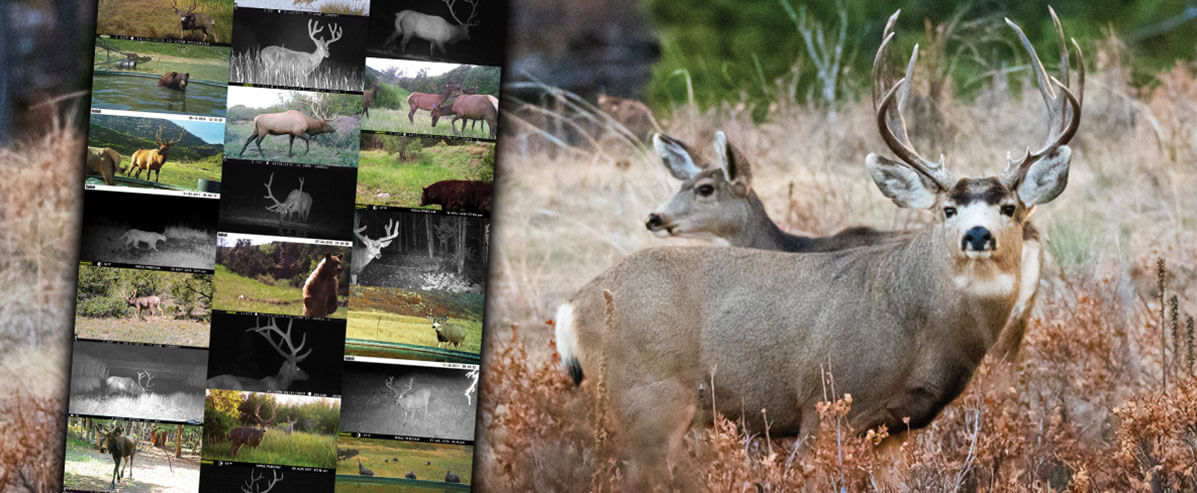 ---
SJSP EXCLUSIVE LISTINGS MAGAZINE
The St. James Exclusive Listings Magazine is more than a property catalog; it is a premier print and digital magazine with valuable real estate articles, entertaining hunting adventure stories, and a complete listing of every property we represent. Our in-house marketing team created this magazine to ensure every listing we represent receives maximum exposure in front of a highly qualified audience. Each distribution goes out to over 2.5 million outdoor enthusiasts through our proprietary marketing channels and exclusive industry partners. Click below to download the digital magazine or request a hard copy be delivered to your doorstep.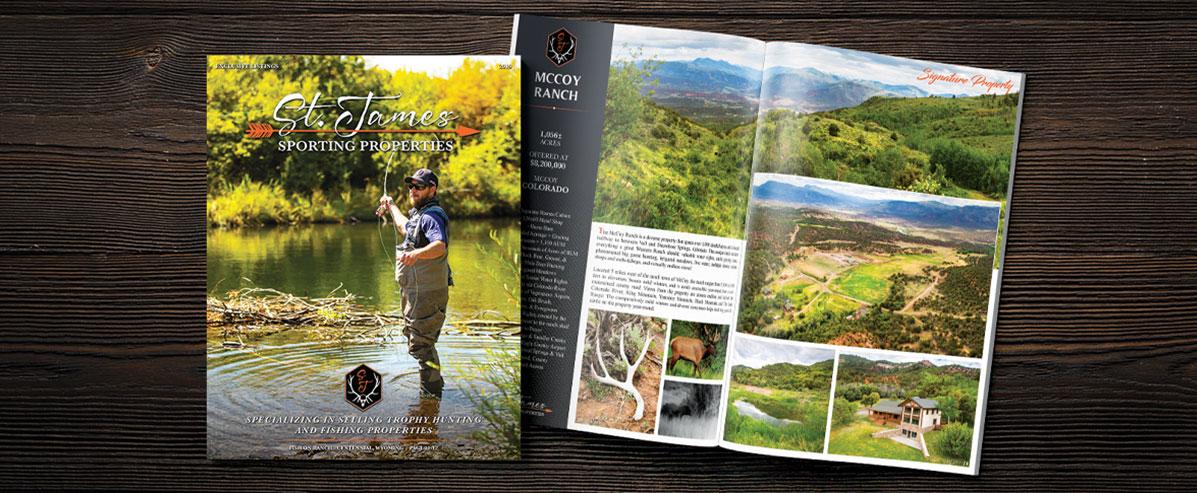 ---
ONLINE ADVERTISING
St. James Sporting Properties knows how to showcase the often-unspoken recreational value of your property in today's virtual world. Each ranch we represent gets listed with Land.com, which syndicates to the nation's top real estate websites, such as Lands of America, Land & Farm, and Land Watch, giving your property three times more exposure. To stay ahead of the market, we regularly produce and distribute our digital content and curate valuable content from our top-tier industry partners. In today's market, most buyers do not commit to traveling to view a ranch in-person until they are ready to buy. We take online advertising to a whole new level by bringing the ranch buying experience to our audience. With the use of 4K Ultra HD Video and edited drone and trail camera footage, buyers can now see the animals and study their habits as if they were watching them from the field.
Lands of America
The Land Report
Land and Farm
Land Broker MLS
Land Watch
Open Fences
SJSP Website
Local MLS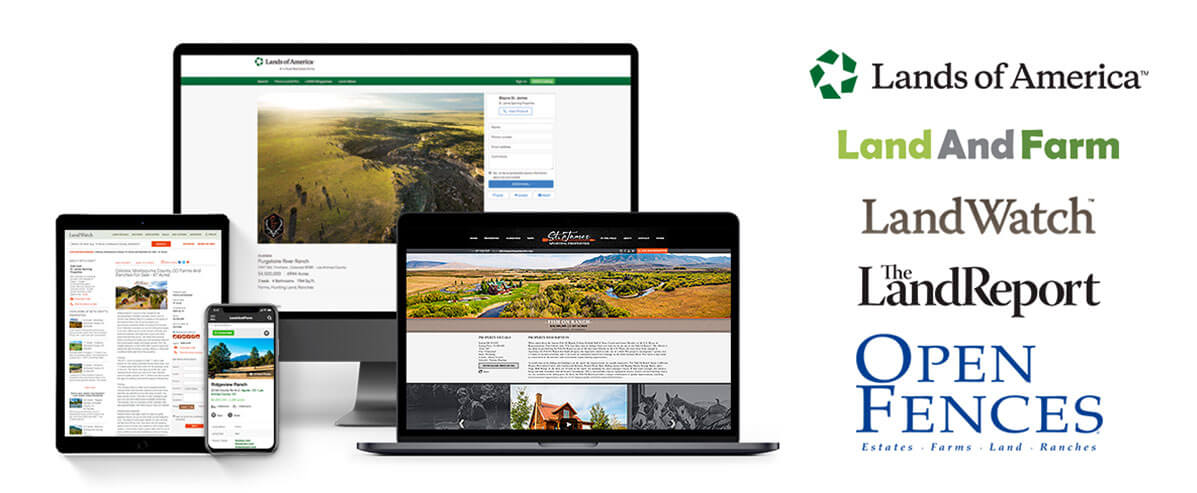 ---
PRINT ADVERTISING
In an ever-expanding digital world, a carefully timed and well-placed print advertisement remains timeless and proven to yield significant returns when marketing your sporting property. The team at St. James Sporting Properties has spent years building relationships and studying the ways of affluent land investors to create an extensive print program targeting qualified audiences across the country. Property-specific content and professional imagery come together to tell the story of your land in the form of engaging flyers, property maps, and brochures, in addition to exclusive direct mail campaigns and premium magazine distributions.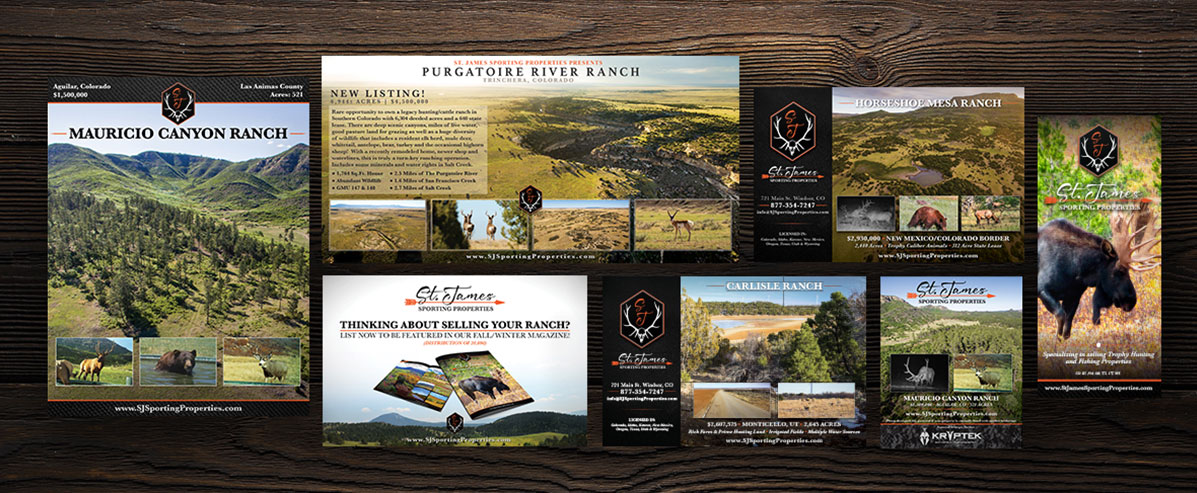 ---
ST JAMES SPORTING PROPERTIES WEBSITE
The St. James Sporting Properties website is regularly updated to ensure we deliver an elevated ranch buying experience that is mobile-friendly and responsive across all devices. We have designed our site to streamline the buying process by providing the ability to search and filter property features in a detailed yet simplified manner. You are sure to appreciate the user-friendly design and navigation as you search for your new trophy hunting or fishing property. In addition to exclusive ranch listings, our website is also home to our digital magazine, outdoor industry news, and hunting articles to keep you up to date in the sporting world.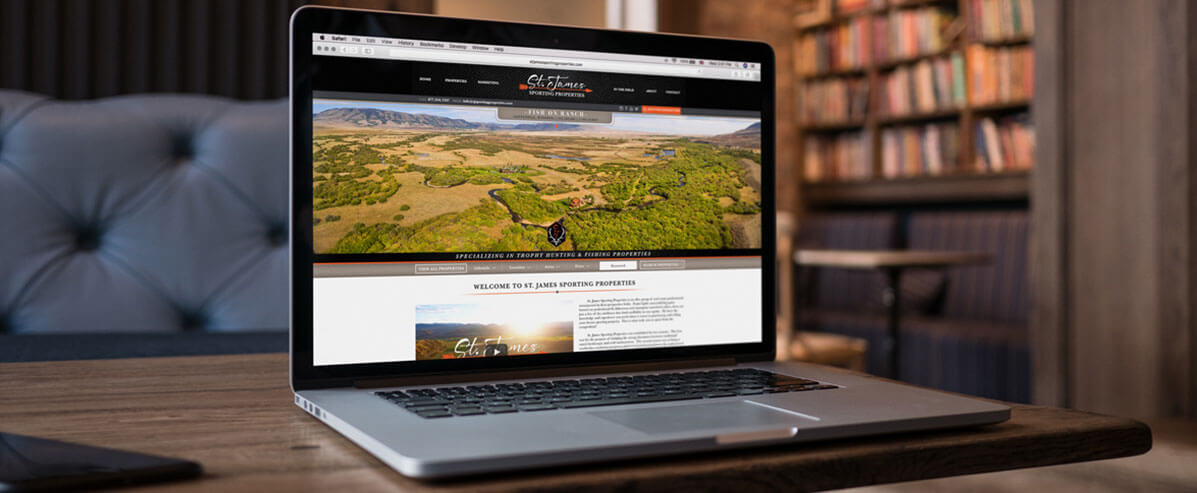 ---
EMAIL MARKETING
You may own the perfect property, but even the best property can sit on the market for years if the right buyer does not know it exists. To ensure your property receives the attention it deserves, we release an interactive digital newsletter each month. Our newsletters include the newest listings, updates and price reductions, recently sold properties, valuable industry news, hunting articles, and exclusive offerings from our industry partners. The St. James Digital Newsletter not only goes out to a carefully curated list of personal and professional contacts, but it also goes out to our partner networks which have proven to draw in new buyers from multiple markets. Our approach to digital marketing gives clients a significant advantage when marketing an exclusive listing because those on our contact list not only have an interest in premier sporting properties – they also have the resources to acquire them.
Alongside our newsletter we also market your property across all of our social media platforms. Our social media accounts give us an outlet to promote your property at a moment's notice as well as engage with potential buyers.
FOLLOW US: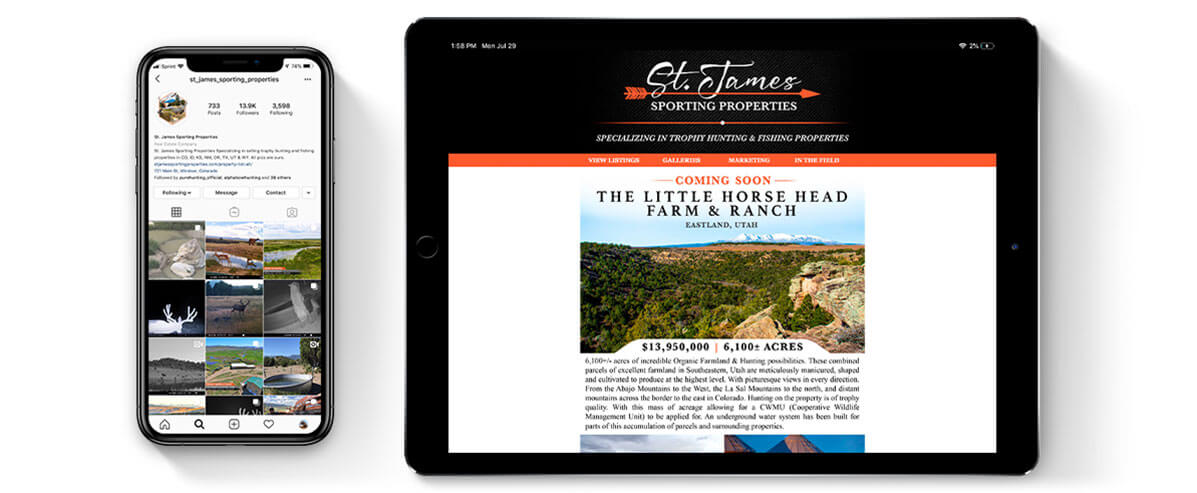 ---
SOCIAL MEDIA
Your property is one-of-a-kind and therefore requires a tailored social media strategy to stand out in a competitive market. From pushing out live-listing updates as seasons change to posting new wildlife videos and photographs, we are experts at bringing your property to life and converting casual lookers into prospective buyers. We treat your property as our own and commit to maximizing your listing's exposure through our social media presence and industry relationships. Thanks to our trusted nonprofit and industry partnerships, the St. James brand reach includes over two million followers across the top social media platforms.
---
INTERACTIVE MAPPING
Your property's most valuable features are sometimes the most difficult to explain. When marketing to well-qualified and sophisticated buyers, you must be able to clearly communicate the complexities of your ranch to demonstrate its value. St. James Sporting Properties has invested an abundance of time and resources in interactive mapping technologies to bring to life the vital details regarding your property's location, access routes, topography, property lines, natural waterways, adjacent or nearby public lands, conservation easements, and other important information. Each mapping technology we offer provides a customizable and highly interactive user experience with multiple views and layers to expose potential buyers to all your ranch has to offer.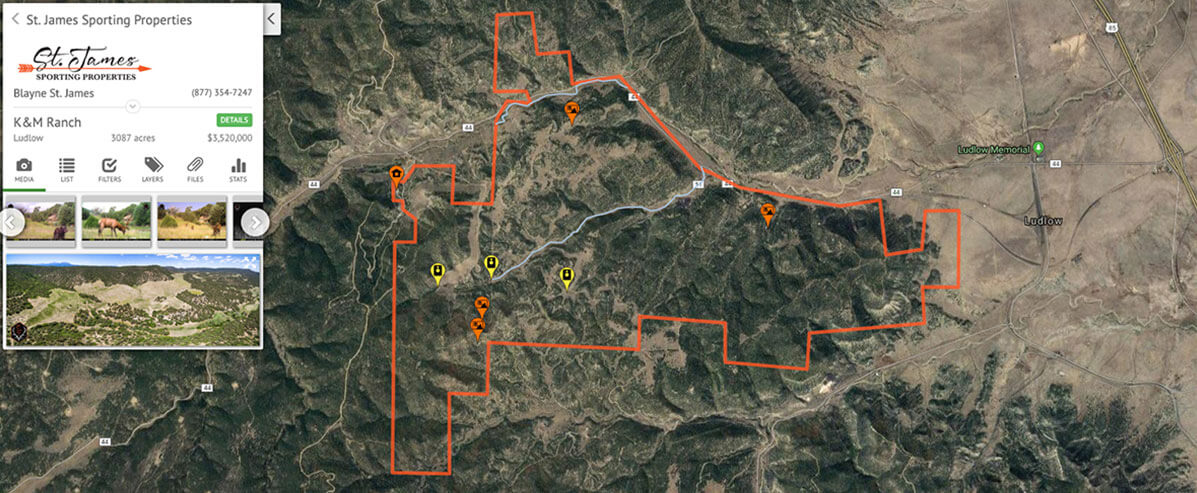 ---
INDUSTRY TRADESHOWS, BANQUETS & AUCTIONS
Each year the team at St. James Sporting Properties travels to tradeshows to meet face to face with thousands of new buyers and loyal clients to showcase new properties and connect them to our inventory. Over the years, we have narrowed our focus to attending the most important and prestigious shows, banquets, and charitable events in the outdoors industry. This approach has enabled us to expand and cultivate a loyal network of highly qualified buyers and trusted industry partners. We take great pride in representing your ranch, and by regularly attending these events, we make sure your property is positioned on the best platform to reach the right audience.
Dallas Safari Club | Dallas, TX
International Sportsmen's Expo | Denver, CO
Sheep Show | Reno, NV
Western Hunt Expo | Salt Lake City, UT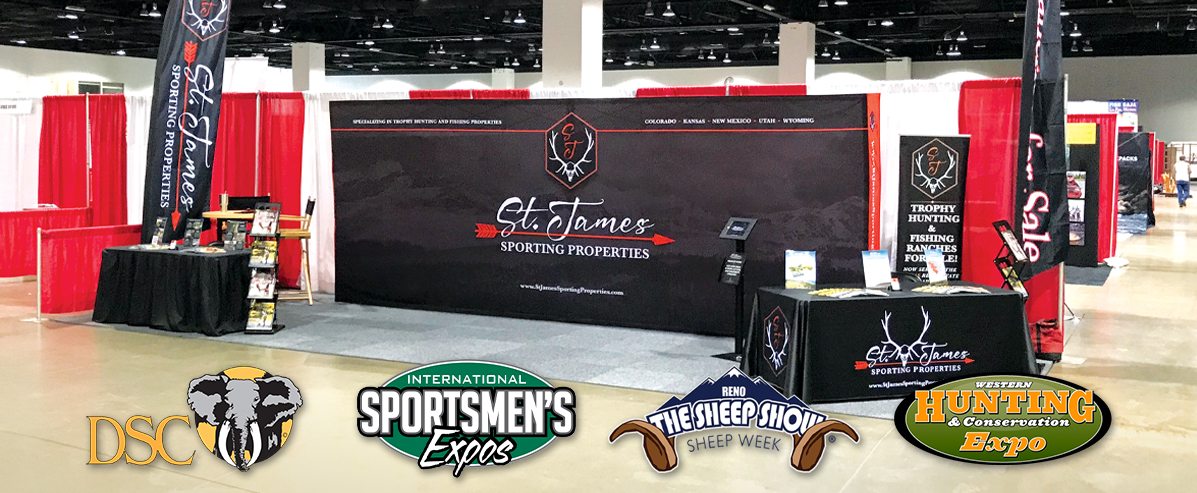 ---
INDUSTRY PARTNERS
Over the past several years, the team at St. James Sporting Properties has developed trusted relationships with some of the top brands, media outlets, and organizations in the outdoor industry. Many of our brokers have been recognized as leaders in their respective fields and selected to become part of our partner brand's national Pro-Staff Teams. While this is undoubtedly an honor and blessing for our team, it is also of tremendous value to our clients.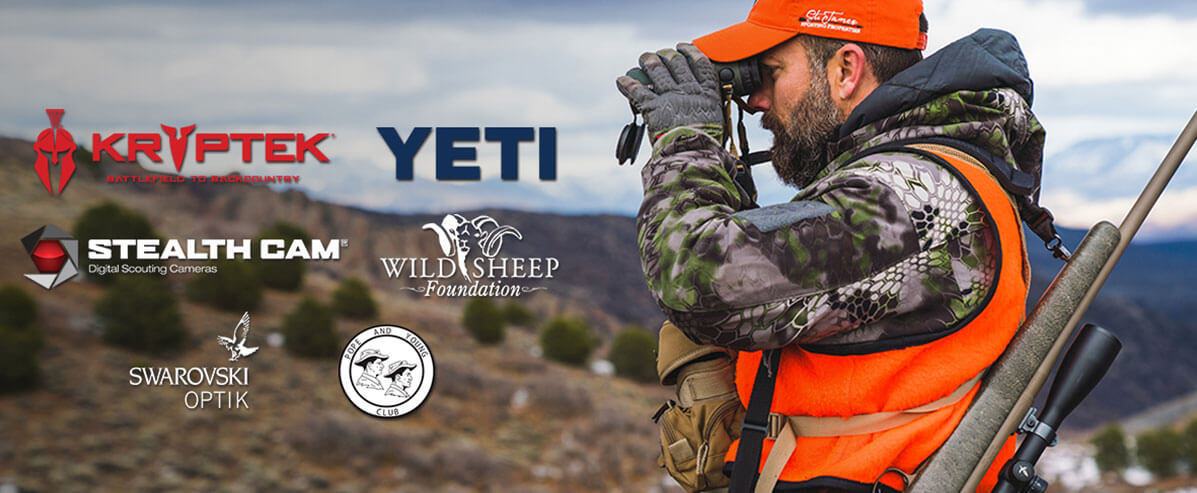 ---
NONPROFITS
At St. James Sporting Properties, sportsmanship is more than a casual hobby – it is a way of life. As you know, being a sportsman does not mean taking all nature can give but participating in the balance needed for ecosystems to thrive. Hunters and outdoorsmen are some of the best advocates for our natural world. To ensure we can pass the privilege of hunting on to future generations, we are committed to supporting and partnering with the best conservation and wildlife management nonprofits in North America.
---
IN-HOUSE MARKETING DEPT.
Being agile and adjusting to new market conditions as they arise may mean the difference between selling your property quickly and having it remain on the market for years. Rather than outsourcing your marketing needs, we focus our time and resources on building and maintaining frequent listing campaigns to showcase the most valuable aspects of your sporting property across multiple industry channels. To enhance our campaigns' effectiveness, the team deploys custom digital and print promotions to match unique property features with prospective buyer interests. From sharing a new wildlife video to updating your listing with a price change or adding new seasonal photos of your ranch, our in-house marketing team stays on top of your listing to ensure it gets promoted to its fullest potential.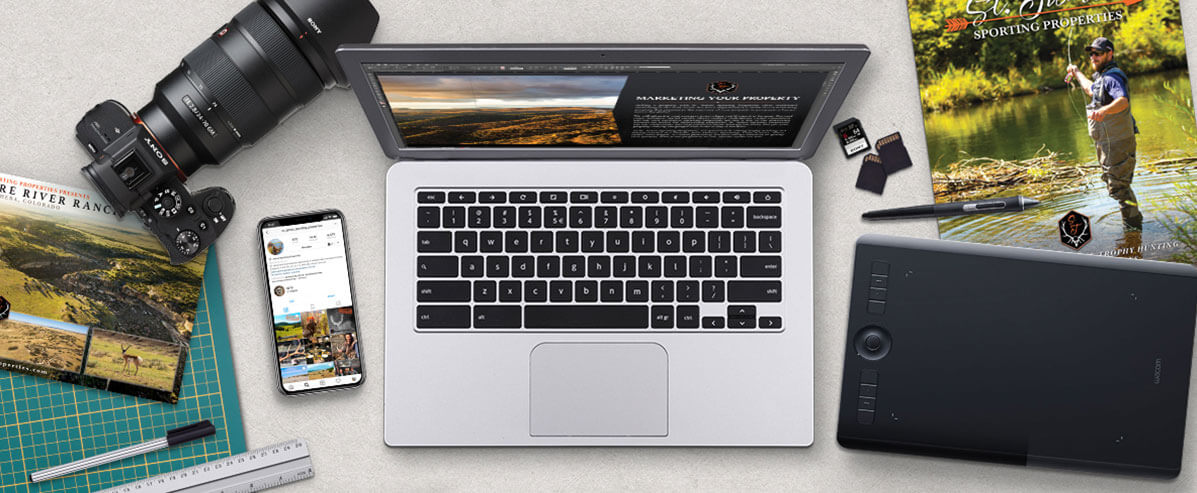 SELL WITH US