Marketing for Hunting & Fishing Property
MARKETING YOUR PROPERTY

Selling a property with St. James Sporting Properties takes traditional marketing to the next level! We have implemented a multi-faced marketing program that maximizes the exposure of your property to prospective buyers across the globe!
We will advertise your property everywhere you'd want it to be seen. Top real estate websites, social media, direct mailers, tradeshows, email campaigns, and our own exclusive sporting magazine are just a few of the marketing avenues we utilize for showcasing properties. St. James Sporting Properties has the connections and experience to break through the noise and get your property seen by the people who want to buy it the most.
PHOTOGRAPHY & VIDEO
PHOTOGRAPHY
Our team gathers a wide variety of images of your property and then has them professionally edited to help give your property the look it deserves. We use these photos to market your property across all of our digital and print marketing platforms.
VIDEO
For qualifying ranches, we also provide high definition video captured by film and drone. These qualifying ranches will also include a full length property video that will be uploaded to both our website and YouTube channel.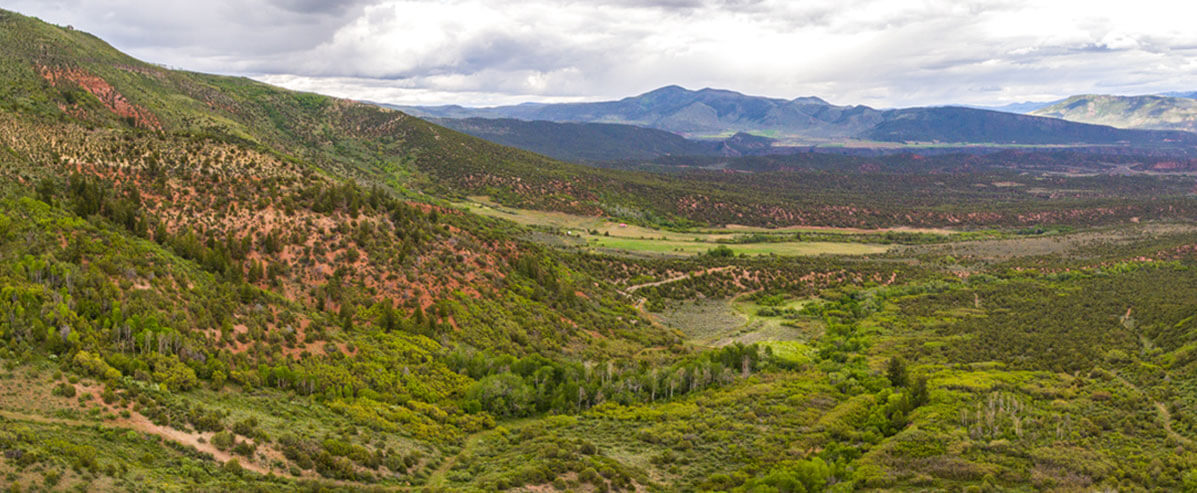 ---
DOCUMENTING WILDLIFE
PHOTOGRAPHY
Showcasing the wildlife & game animals on your ranch is a must! Each one of our team members dedicates time in the field to document your wildlife, whether that is accomplished by in field photography, trail cameras or both. An accurate depiction of the animals that call your ranch home is vital in marketing your sporting property.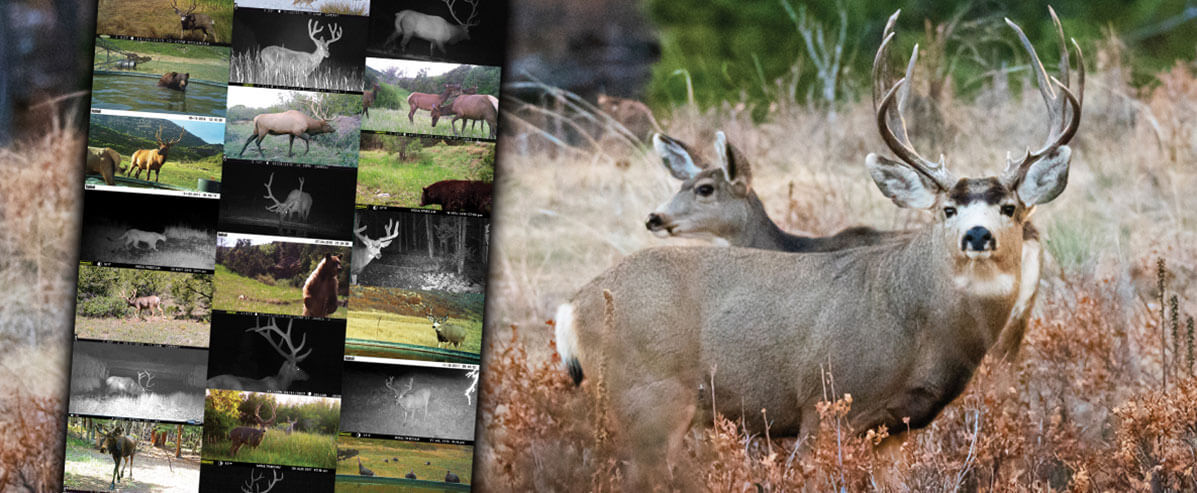 ---
SJSP EXCLUSIVE LISTINGS MAGAZINE
Every listing is showcased in our industry-leading St. James Sporting Properties Exclusive Listings Magazine. The SJSP Magazine is more than just a property catalog, as it contains valuable/entertaining articles about the real estate industry and our hunting adventures. Our Exclusive Listings magazine is handed out by our team, mailed to buyers and is now offered digitally on our website! Total distribution of our SJSP Exclusive Listings Magazine is well over 10,000 (print & digital).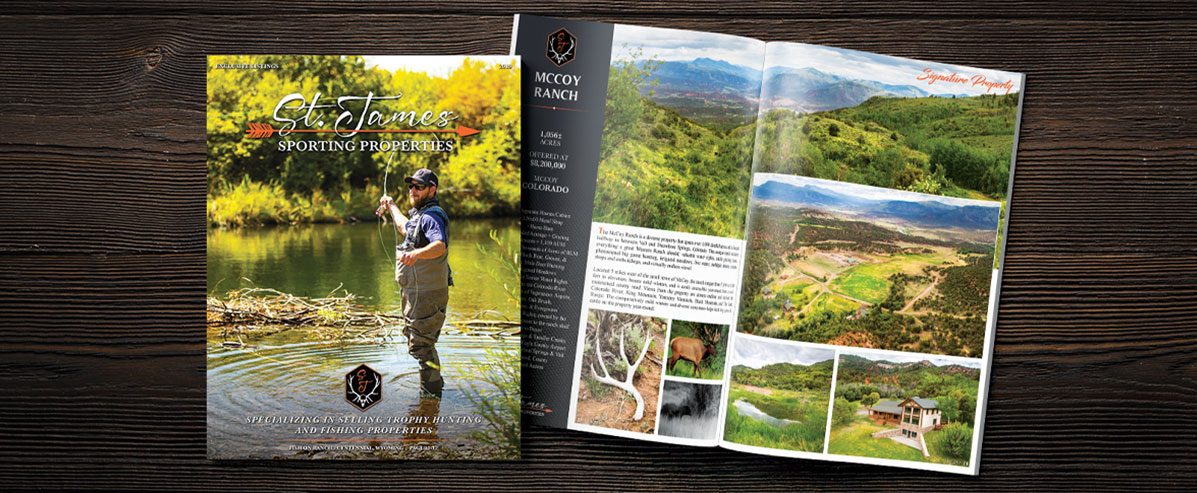 ---
ONLINE ADVERTISING
Your property will be listed on the nation's top real estate websites. We are Premiere Advertisers with Land.com which gives your property 3x more exposure. Ensuring your property is seen by thousands of potential buyers.
Lands of America
The Land Report
Land and Farm
Land Broker MLS
Land Watch
Open Fences
SJSP Website
Local MLS
---
PRINT ADVERTISING
Our in-house marketing department creates a wide variety of print material including flyers, brochures, handouts, mailers, etc. These custom pieces are meant to highlight the wide variety of properties we represent.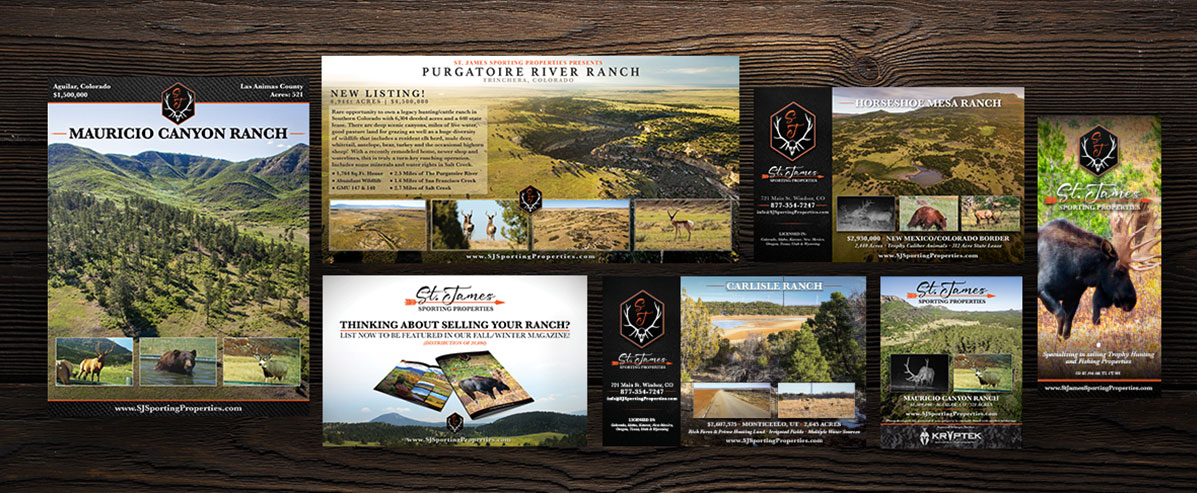 ---
SJSP WEBSITE
Our NEW custom website is home to all our exclusive listings, as well as interactive mapping, broker profiles, company history, industry articles, hunting articles, and much more. With a plethora of search criteria filters, you'll be able to drill down and find exactly what you are looking for. It is mobile friendly and responsive for all devices. Look for the new shopping cart where anyone can order branded St. James Sporting Properties gear and apparel.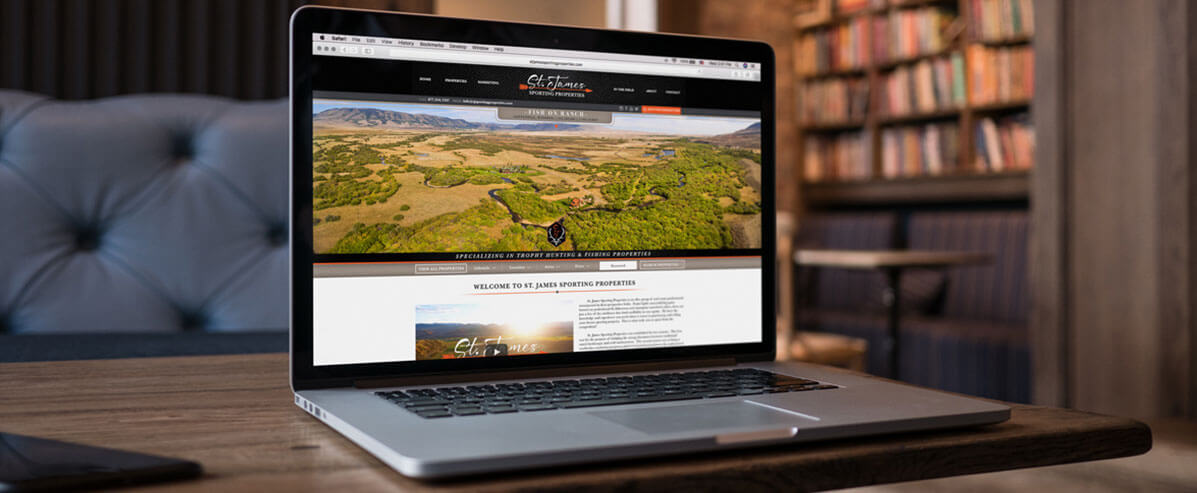 ---
ONLINE MARKETING
We have assembled an exclusive list of buyers, sellers, landowners & brokers to whom we market your property to via our monthly newsletter. This opt-in list offers great promotion of your property to people that are truly looking to buy a sporting property. Newsletter content consist of new listings, price reductions, sold properties, industry news, hunting news, hunting opportunities & exclusive offers.
Alongside our newsletter we also market your property across all of our social media platforms. Our social media accounts give us an outlet to promote your property at a moment's notice as well as engage with potential buyers.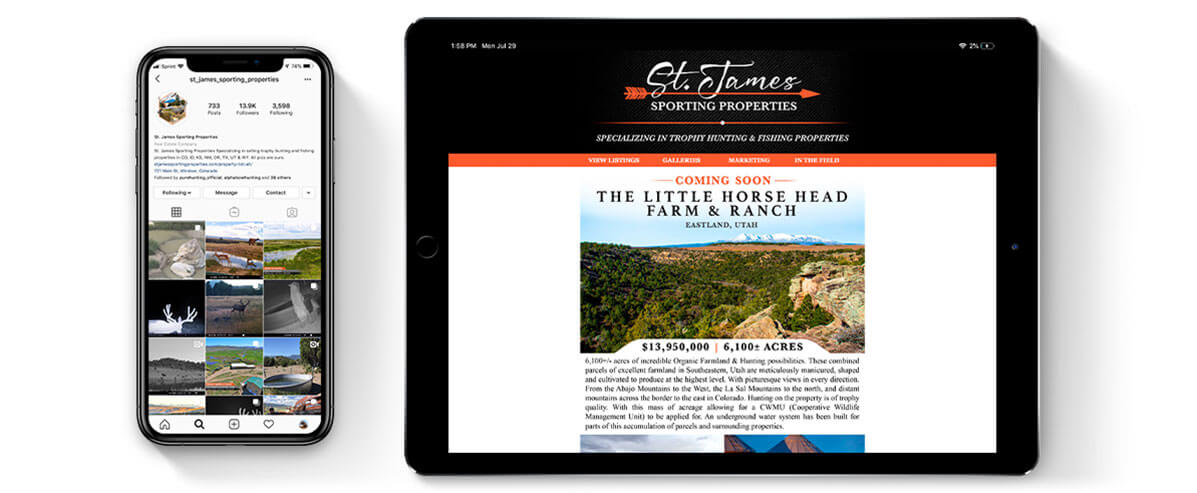 ---
INTERACTIVE MAPPING
Your ranch will be fully mapped in top-level interactive mapping software. Property boundaries and public lands are overlaid onto a high-quality satellite image. Structures & points of interest are also marked and labeled on the map. This technology will give potential buyers a bird's eye view of your property and what it has to offer. These maps are highly interactive and users can access the full features across all devices.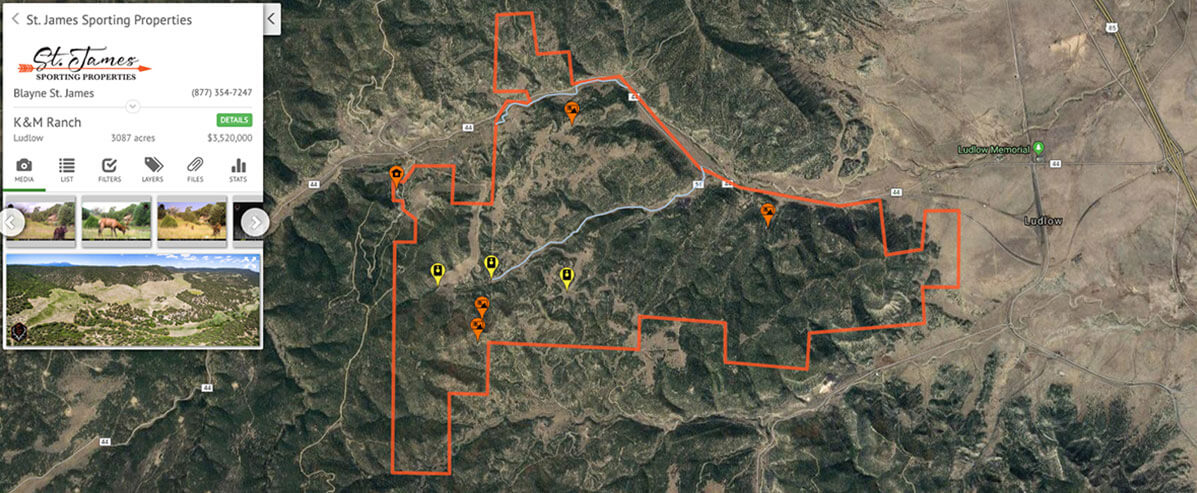 ---
INDUSTRY TRADESHOWS
We take marketing to the next level by investing a lot of money and time into industry tradeshows where we showcase properties and connect buyers to our inventory. A tradeshow is a big investment, but it allows our team the opportunity to connect face to face with new buyers, and share our invaluable experience. Shows we currently attend:
Dallas Safari Club | Dallas, TX
International Sportsmen's Expo | Denver, CO
Sheep Show | Reno, NV
Western Hunt Expo | Salt Lake City, UT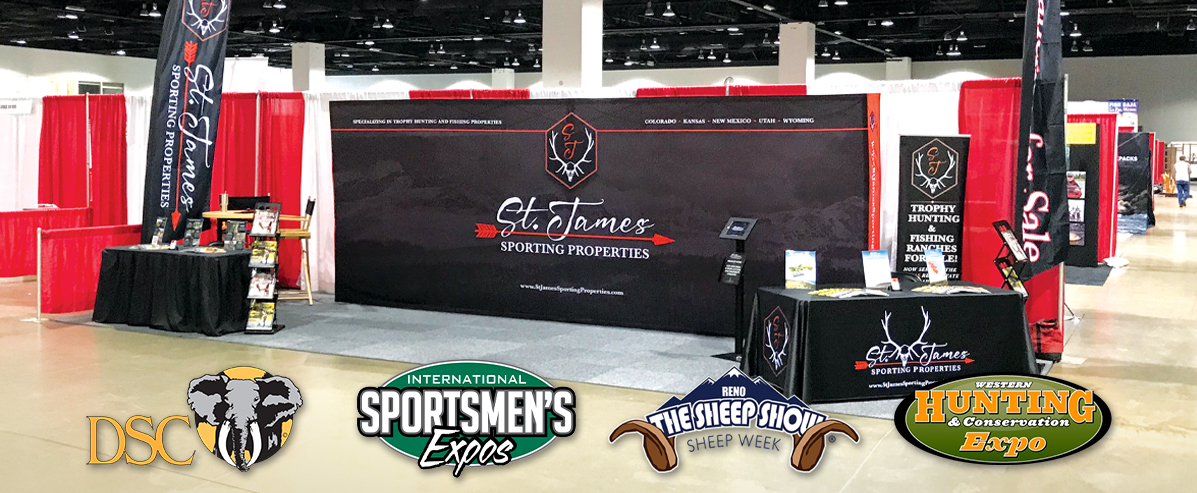 ---
STRATEGIC PARTNERS
We have created strategic partnerships with some of the best names in the outdoor industry! Examples include Swarovski who are world famous for their hunting optics, Kryptek Outdoor Group which manufactures technical hunting clothing and Stealth Cam who produce some of the most innovative trail cameras on the market today. We at SJSP believe in giving back and have close ties to non-profit organizations such as Wild Sheep Foundation and Pope and Young Club.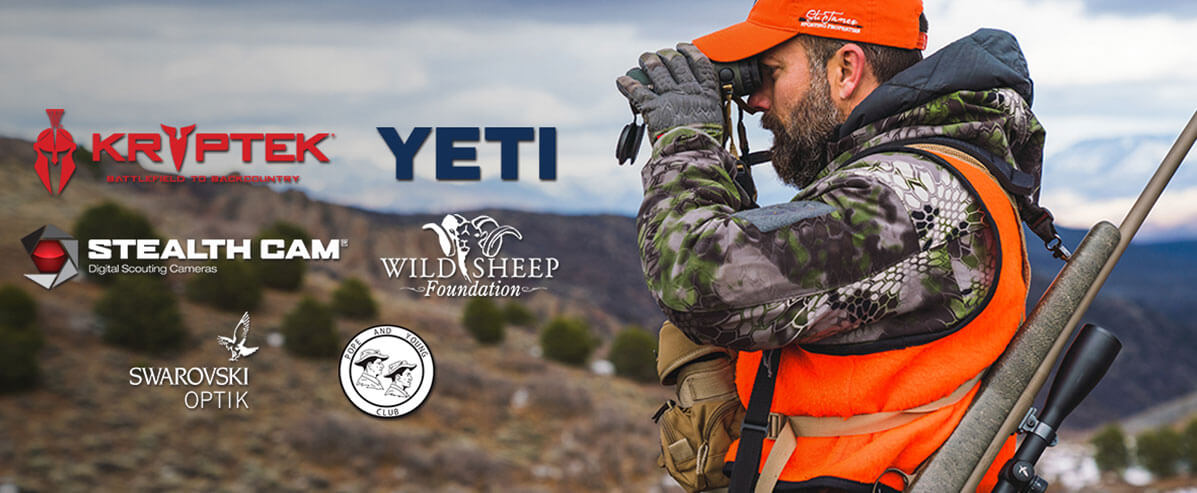 ---
IN-HOUSE MARKETING DEPT.
Our In-House Marketing Department is another valuable component of our team.  This branch of SJSP is critical to the reputation and growth of our brand and our company mission.  Our Marketing Team streamlines our marketing material, insuring the quality and branding is coherent across all SJSP platforms.  They work directly with the brokers to design and implement marketing material for their territory as well as your property. Along side broker needs, the marketing team develops and executes strategic digital and print campaigns for the company across various channels to insure your property is marketed to its fullest potential.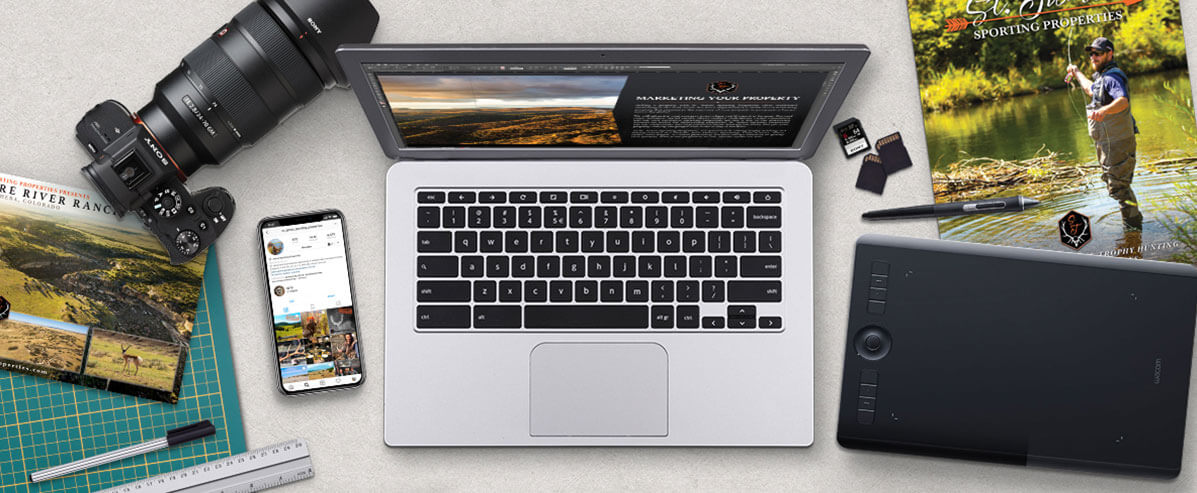 SELL WITH US