Lessons are learned in many different ways. We read directions or hear someone teach, and the information sticks in our brains. But the most significant lessons in life are often learned by doing…either through experiences or mistakes. In August 2022, I killed my first big game animal outside Walden, Colorado. A lifetime of decisions and lessons I learned along the hunt would ultimately lead me to the moment my path crossed his. 
 My father, a Denver native and career firefighter, introduced me to the world of hunting on the property of a gracious farmer that allowed us to hunt dove and pheasant in Holyoke, CO. The first shot I ever took from that break action single shot .410 connected with a light pole, illuminating his stock pens.  Not my finest moment, but I was hooked.  [Side note: My dad was out $100]
After that first barnyard hunt, my dad and I went bird hunting occasionally. I also was introduced to waterfowl hunting by my childhood friend. We hunted in Southwest Nebraska. But like most boys in the area, my time was spent playing football in the fall.  The idea of hunting big game never really crossed my mind as we barely knew any other hunters in the area. 
Once football fell to the wayside in college, I didn't have a clear direction in my life. Like most young men in their early 20's, I was forced to figure out who I was at my core. I attended Colorado State University, but the most impactful classes I took were at the school of hard knocks. Through hard times, life has a funny way of guiding you to the path you are meant to be on; as long as you can listen. 
The path I went down included hunting birds, which was my great escape, and somewhere I could go to feel grounded in myself and the world around me. I knew there was something deeper to it than just "killing birds", so I took that path and ran down it. Throughout college, I got really good at duck hunting with some great friends, and we chased pheasants over hundreds of miles on the arid plains of Eastern Colorado. I got a small taste of deer and elk hunting, but it was nothing serious. Somewhere along my path, it crossed Blayne's path, who decided to take a chance on a young man with a passion for hunting and a fire to build a life helping others pursue their dream properties. 
 Fast forward a few years (and several hundred birds later) and I find myself enrolled in the school of hard knocks once again. The kind that makes you take a real hard look at yourself. I still had my passion for hunting, but I felt the drive to master a new skill. I needed more than birds for a few months each fall, I needed something I could do year-round and put all of my energy into.  That energy was put into a brand new Mathews bow. I had never shot a bow in my life, and now I had bought a hot rod and didn't even know how to drive it. But I learned quickly and through hard practice, got dang good at it. And again, I was hooked.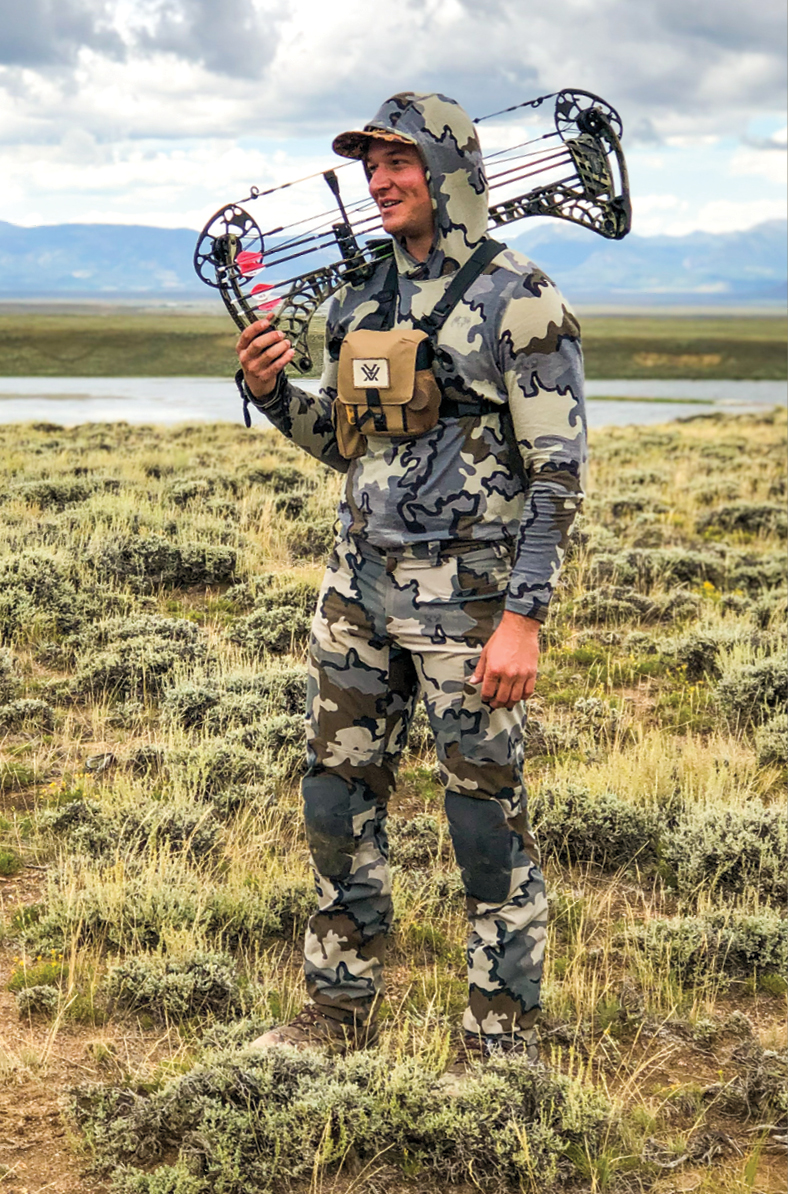 Wanting to utilize my bow for an actual hunt as soon as possible; I began researching what tags I could draw for the 2022 season with the preference points I had accumulated.   I had spent plenty of time in North Park, Colorado; a Pronghorn Buck in the Walden Valley became a clear number one choice.  I decided to put all my eggs in one basket, nothing else would satisfy me/suffice.
I began to spread the word once I had drawn the tag, to which many of my friends with big game hunting experience told me I didn't know what I was getting myself into. Spot-and-stalk archery Antelope would be no easy task, but I knew exactly what I was getting myself into.  One hundred percent of me wanted to prove that I could check off one of the most difficult hunts in North America on my first hunt.
 Throughout the summer, I took a couple of trips to scout the area and figure out exactly where I wanted to hunt. The Walden Valley is roughly 1,600 square miles, littered with high quality Pronghorn, so I had a lot of ground to cover. And from those several scouting trips, it was evident there would be no lack of opportunity, so long as I could listen to the environment around me. 
A few days before the season opened, I grabbed my gear and headed for the hills. I had three fellow hunters lined up to join me, spaced throughout the week so I would always have someone with me in case I needed an extra hand. My confidence level going into my first hunt was in part due to the guys that had helped me throughout my journey, and would be feeding me information during the hunt.  The first days were just as promising as I had hoped and revealed plenty of mature bucks throughout the valley. The weather forecast was excellent for the week ahead. Cool and wet thanks to the monsoon season far to the south. Things were looking great. 
What would success be without some hardship?  I returned to my tent one evening to find it had been annihilated by a storm earlier in the day, so I packed up and headed to a motel in town. There I met my buddy, Cody who was going to hunt with me the first two days. A destroyed tent was frustrating, however, making a new base camp was a relatively easy fix.
 At first light on opening day, we headed straight for a chunk of BLM where I had seen the highest concentration of bucks in the valley. The terrain was hilly with limited cover, so a buck either had to be in the perfect spot or I was going to have my face in the dirt for quite a distance. A welcome challenge indeed.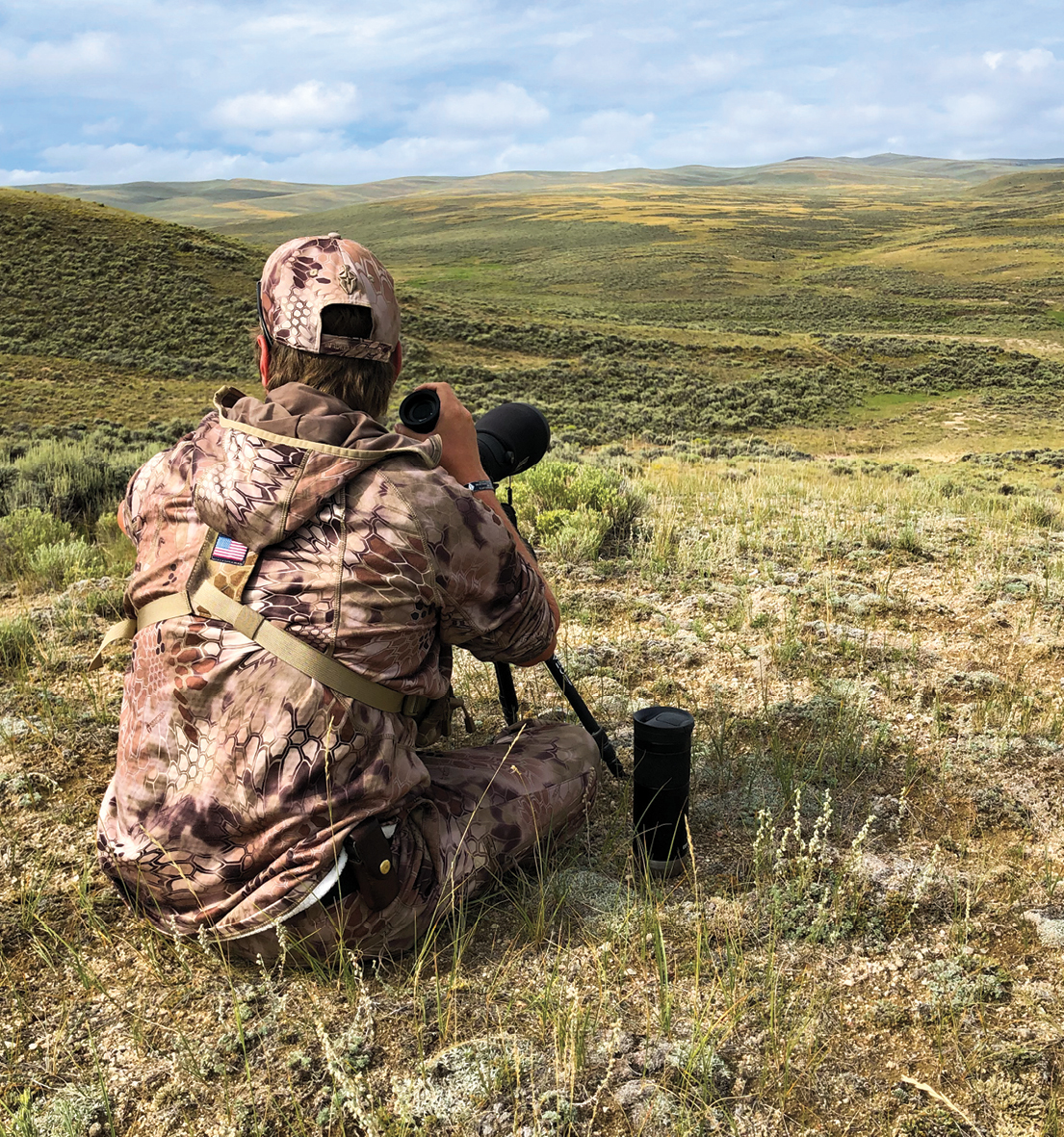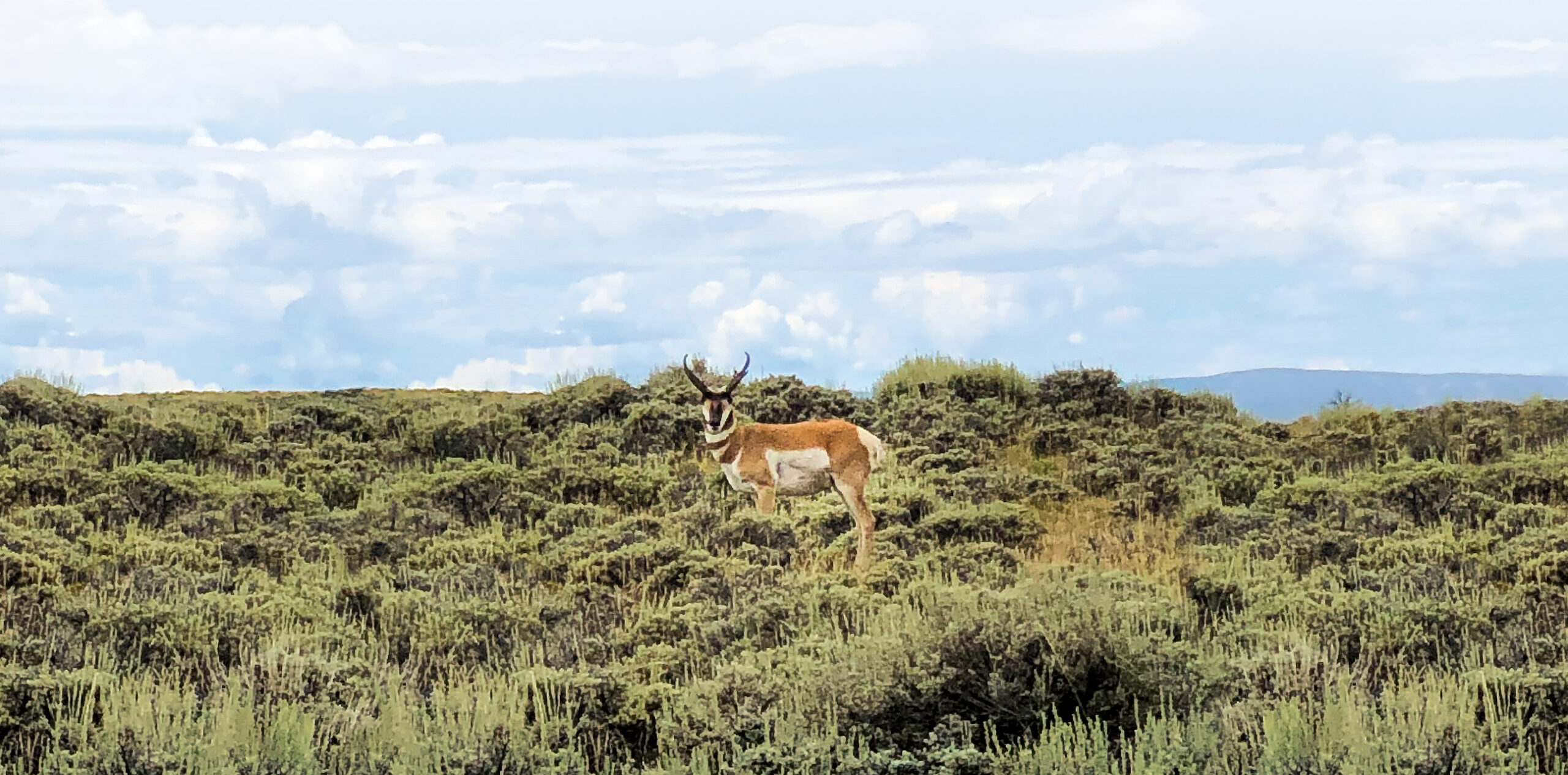 Luckily that morning, right off the bat, I spotted a pair of black horns barely peeking over a ridge about 250 yards out. II immediately dropped my pack, hoofed it down the ravine, and ran up the hill to about 130 yards. There, I dropped to the ground.  I could see he was a large buck and crawled as slowly as I could until finally ranging him at 86 yards.  That caused him to bust me and run off. I will never forget that first stalk, what a thrill!  My confidence that I would be able to get within my effective shot distance at some point during the week was reinforced. But I didn't deserve a trophy on my first ever stalk, especially at first light on opening day. I had to work for it, and I wanted to work for it.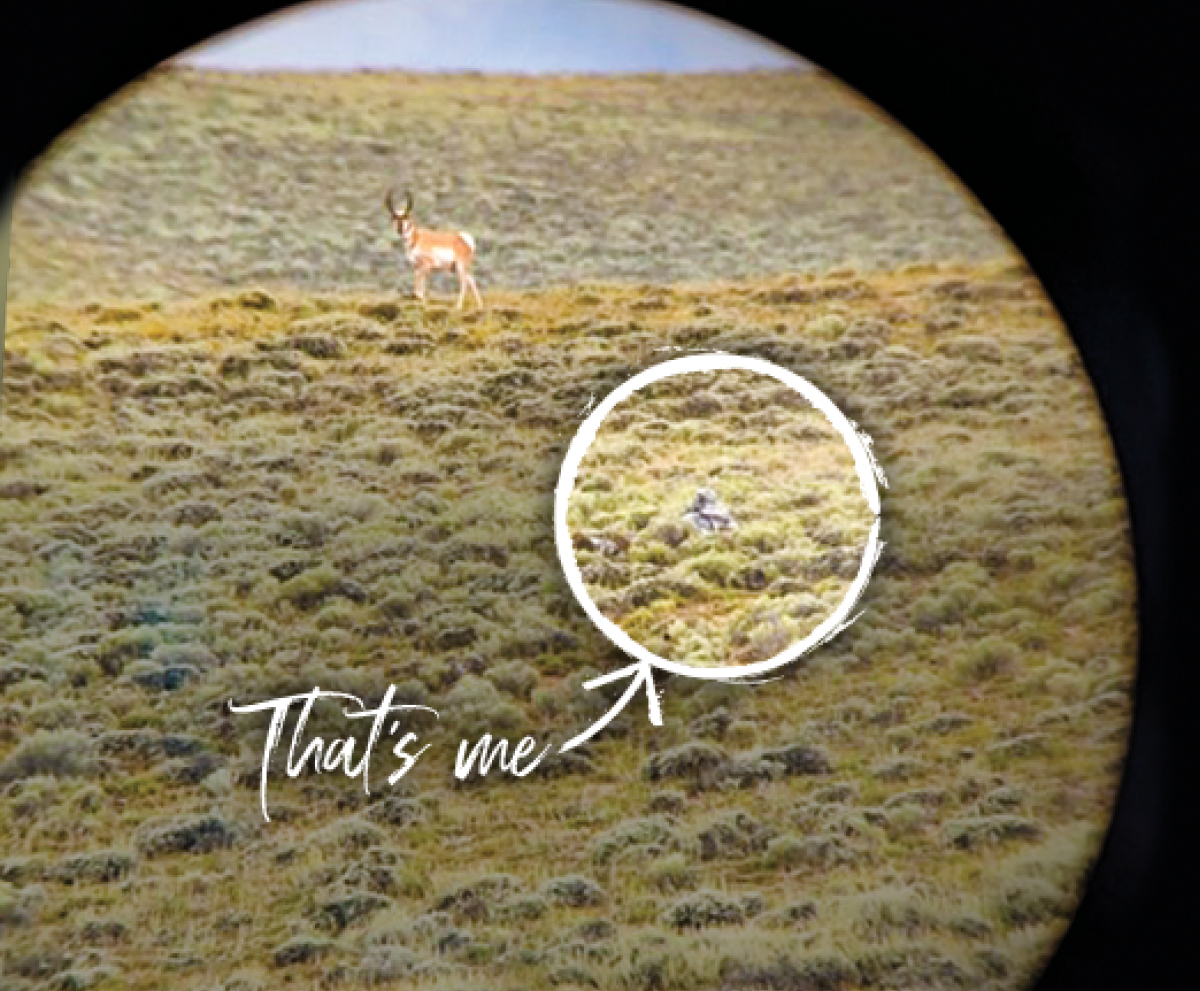 The next two days were filled with perfect weather along with many brutal, lengthy, and unsuccessful stalks. Exhilarating every single one of them, and each one a new learning experience. There was definitely no shortage of opportunities, but the stars just didn't align on those stalks. Cody left the evening of night two and my brother-in-law, Ryan, was set to come up in the morning on day three, so I would have a few hours solo before he showed up. 
During the previous two mornings, Cody and I had patterned a quality buck to a lone hill on the plains. There was plenty of cover for me to utilize so I decided that the 'King-of-the Hill' would be my solo target first thing on day three. I headed out at first light and started to creep up the hill only to find that the King-of-the-Hill was at the bottom of the hill and he spotted me before I ever saw him. He chuffed at me and took off. 
Slightly agitated, I jumped in my truck and took off down the road to check another spot across the valley before Ryan showed up.  About a mile down the road, I spotted a lone buck grazing. The buck just continued grazing passively as I prepared to get in position. At one point he picked his head up, looked in my direction, then went back to grazing.  I froze in amazement at how lucky I was he had not run. I continued to move closer to him. The wind was right, and he minded his own business the whole time. I had him broadside, the perfect position for a shot.
Someone was watching over me that morning because of course, when the buck was in my sights, the last thing on my mind was that I was going to have to field dress him on my own, having never done it before. While at full draw, he caught my movement, but the pin was settled and without hesitation I let the arrow fly. The sound of an arrow connecting with its target is a sound I won't soon forget. If you've heard it, you'll certainly agree.  I immediately nocked a second arrow that found its mark, a valuable lesson a friend taught me. The buck was dispatched quickly.
The adrenaline wore off and the reality set in that I was going to have to figure out how to field dress without anyone else present. Luckily, the chunk of land was on a high spot, so I was able to call one of my good friends to help walk me through the process. It took me longer than the average hunter, but I did it successfully and had it to a butcher within an hour.
I was dang proud.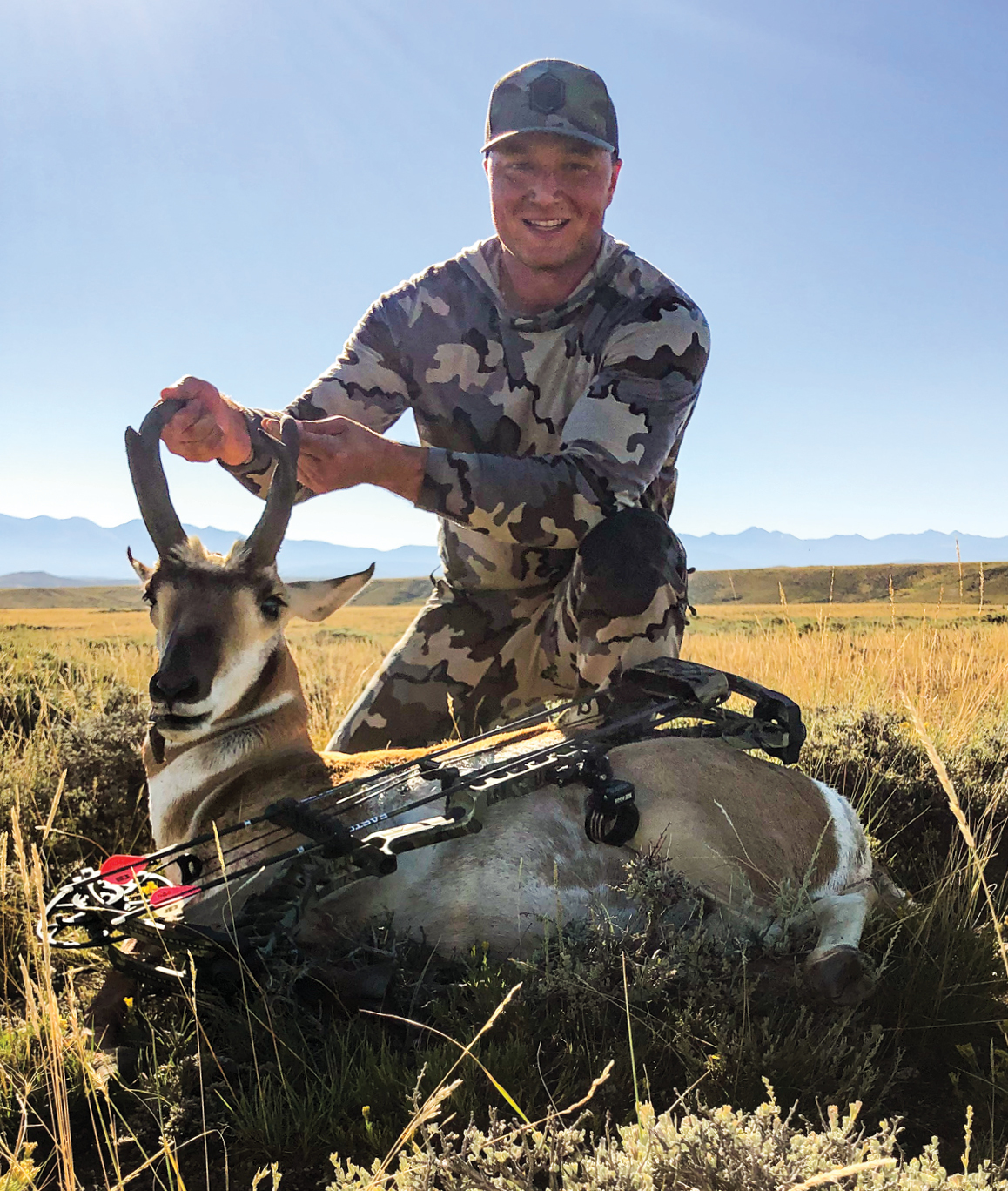 I had envisioned this whole hunt to play out differently, but a valuable lesson I learned was to take what opportunities cross your path. I happened to be in the perfect place, at exactly the right time, with exactly the right buck. When I look at the journey that led me to drawing my bow that morning, I see the lifelong culmination of decisions and events that were set in motion long ago on that day I shot the light pole with my dad's .410.
 It is a blessing that I was forced to put in the work scouting hundreds of miles of the Walden Valley (749 to be exact) and shooting my bow for months beforehand. I am grateful I was forced to suffer a little bit along the way.  In the end, I was rewarded with a harvest that carries me further on down my path, and a beautifully perfect skull on my wall to remind me of the journey. 
 Though the most visible parts of hunting are typically the trophy on the wall and meat in the freezer, however, hunting is rewarding in many ways not seen with the eye. I believe there is a lesson to take away from every outing, and this hunt affirmed that. Even when something doesn't go exactly how I envisioned it, I can take pride in the path that I took to get there. 
Here's to many more lessons!
Tyler Seno is a Real Estate agent licensed in CO and WY.  He can be reached via email [tyler@sjsportingproperties.com] and phone [303-945-6421].