SHED HUNTING CLOSURES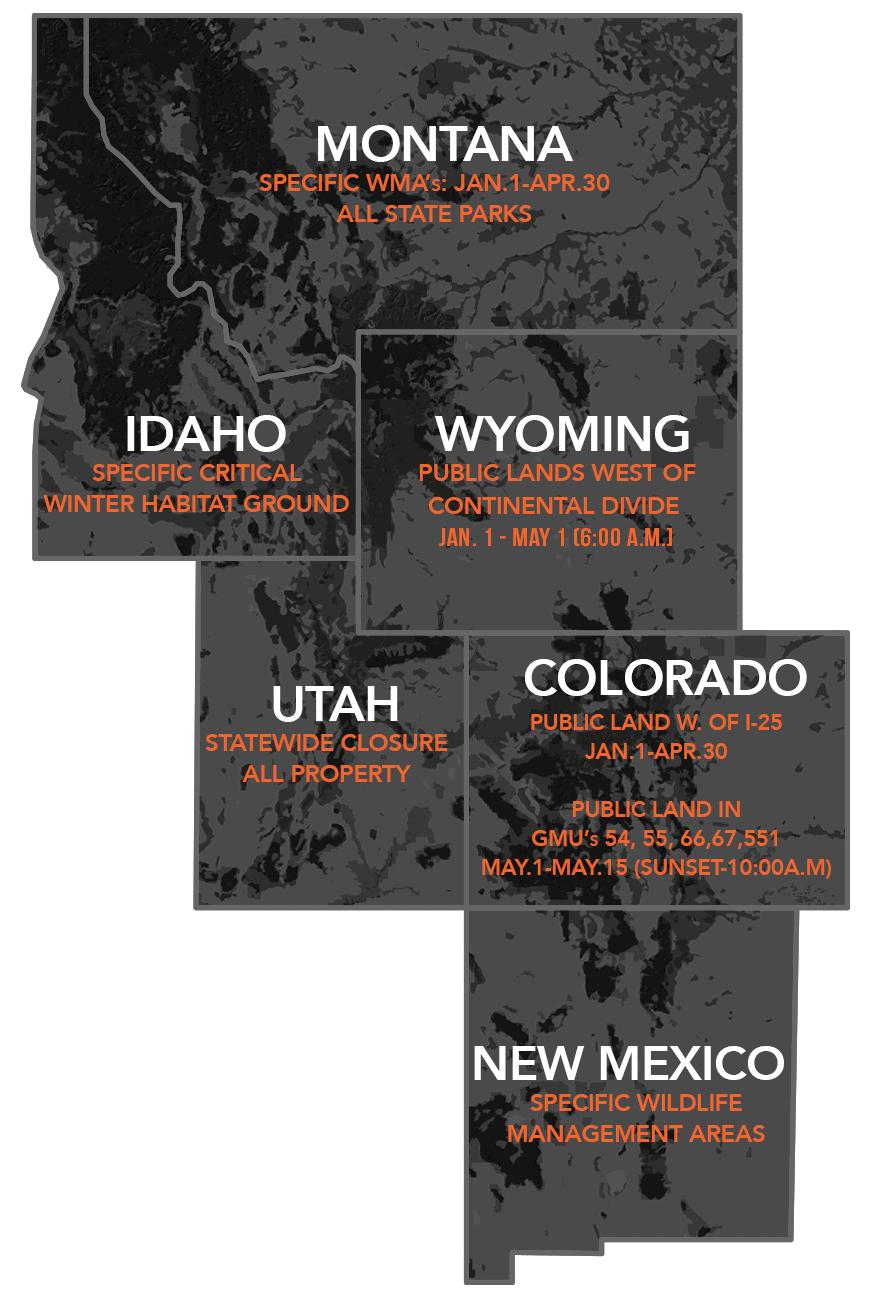 Shed antler and horn collection closes each year in various areas and for various dates and time.  Here is a summary of the closures for several Western states.
[Disclaimer:  Rules and regulations are subject to change over time.  Verify all rules and regulations in the area you plan collect shed antlers and horns.]
GENERAL
No shed antler or horn collection is allowed in any National Park.
No one may enter any private property to collect antlers or horns without permission.
COLORADO:
Shed antler and horn collection is PROHIBITED on all public lands west of I-25 from January 1 through April 30; in addition to all public lands in Game Management Units 54, 55, 66, 67, 551, from sunset to 10:00 a.m. during May 1-15.
IDAHO:
Several critical winter habitat public areas are closed to shed hunting.
MONTANA:
Wildlife Management Areas (WMA), or portions of, which are specifically managed as Big Game winter range are CLOSED to all public entry from December 1 at 11:59 p.m. until May 15 at noon each year.  Shed antler and horn collection is PROHIBITED in Montana State Parks.
NEW MEXICO:
Antlers attached to a skull CAN NOT be touched. Several Wildlife Management Areas in the Northern part of New Mexico are closed.
UTAH:
There is a state-wide emergency shed-hunting CLOSURE during February 7 – April 30, 2023;  including all private and public lands (this closure includes collecting antlers still attached to skulls).
WYOMING:
Wyoming
PROHIBITS
anyone from collecting shed antlers or horns on all public land West of the Continental Divide (excluding the Great Divide Basin and some land West of Laramie) from January 1 through 6 a.m. May 1 of each year.
*Emergency Extended Closure in effect as of 04.25.2023- [click here]