The mountain states in the Western U.S. offer some of the most exciting hunting opportunities in the world.  Sharing hunting opportunities with your children and grandchildren is a wonderful bonding experience, and a great way to create memories for all of you, plus pass down your wisdom and life lessons to the next generation.  We compiled a summary of the various youth hunting opportunities and regulations for several Western U.S. states.
[Disclaimer- Information contained below is subject to change after the date of publish.  Please verify all current regulations]

MINIMUM AGE TO HUNT: 
 [Note: all states require proof of Hunter's Education requirements, with the exception of mentored hunt programs]
COLORADO: 

Big Game– Age 12 (can apply for preference point while 11 if turn 12 by December 31)
Small Game / Turkey– No Minimum Age

WYOMING: 

Big Game– Age 11

(if turns 12 by end of calendar year)

Small Game / Turkey– No Minimum Age

 

UTAH:  

Big Game– Age 12

(can apply at 11) 

Small Game / Turkey– No Minimum Age

MONTANA: 

Big Game- Age 12

(can apply at 11 if turn 12 by December 31)

Small Game / Turkey– Age 12

(10-11 with mentor)

NEW MEXICO: 
IDAHO: 

Big Game– Age 10

(can apply at age 9 if turns age 10 by time of hunt) 

Small Game / Turkey- Age 10

(8-9 with mentor) 
OPPORTUNITIES AVAILABLE TO YOUTH BIG GAME HUNTERS

COLORADO:
Youth (ages 12-17) receive priority for all SECONDARY DRAW licenses.

Youth with an unfilled limited

antlerless deer

,

antlerless elk

or

either-sex elk

license after their original season ends may participate in any open rifle antlerless Deer or Elk hunt that begins after the last day of the season listed on their original license. (Does not include Ranching for Wildlife hunts.)

Youth (ages 12-17) may also hunt

Pronghorn Does

during December and the season that runs until Jan. 31 in GMUs 9 and 191.

Dream Hunt License are issued for hunters (age 12-21) with a life-threatening disease or who are terminally ill.

A minimum of 15 percent of limited licenses for

Doe Pronghorn

,

antlerless

and

either-sex Deer

, and

antlerless Elk

for each GMU shall be available for youth ages 12–17.
From Jeff Masterson

[Broker | Colorado]

"Colorado has several designated State Trust Lands and State Wildlife Areas that are solely dedicated to youth hunting with approximately 14,500 acres.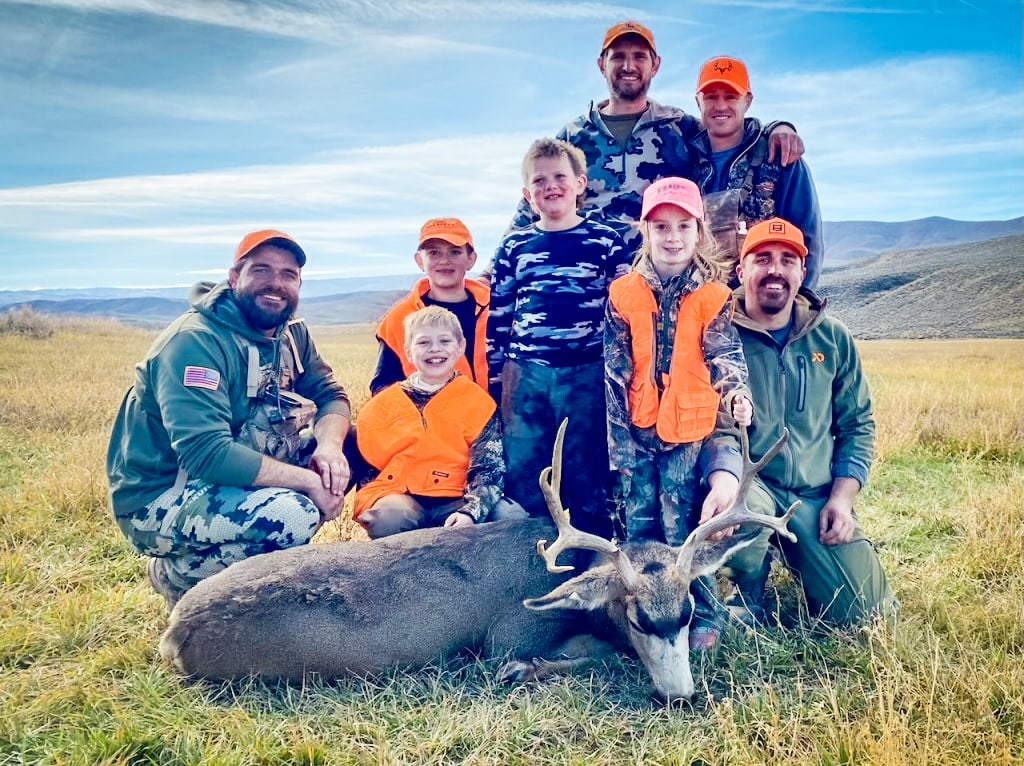 Agent Jeff Masterson and his family on a Northwest Colorado Mule Deer hunt.

WYOMING:
The HUNTER MENTOR PROGRAM allows anyone (who hasn't completed Hunter's Education requirements) to hunt small game

and

game birds

with a mentor.

Non-resident youth (under 14) may hunt

game birds

 without a Wyoming game bird license if accompanied by an adult possessing a valid Wyoming game bird license. Game birds taken by an unlicensed youth hunter will be applied to and limited by the daily bag and possession limits of the licensed adult in their company.

All youth (under 14) 

Turkey

hunters shall possess a valid wild turkey license. Wild turkey hunters under fourteen (14) years of age shall be accompanied by an adult.
From Tyler Seno

[Broker | WY // CO]

"A resident youth (under 14) does not need a small game license nor conservation stamp, and may take their own limit, but must be accompanied by an adult."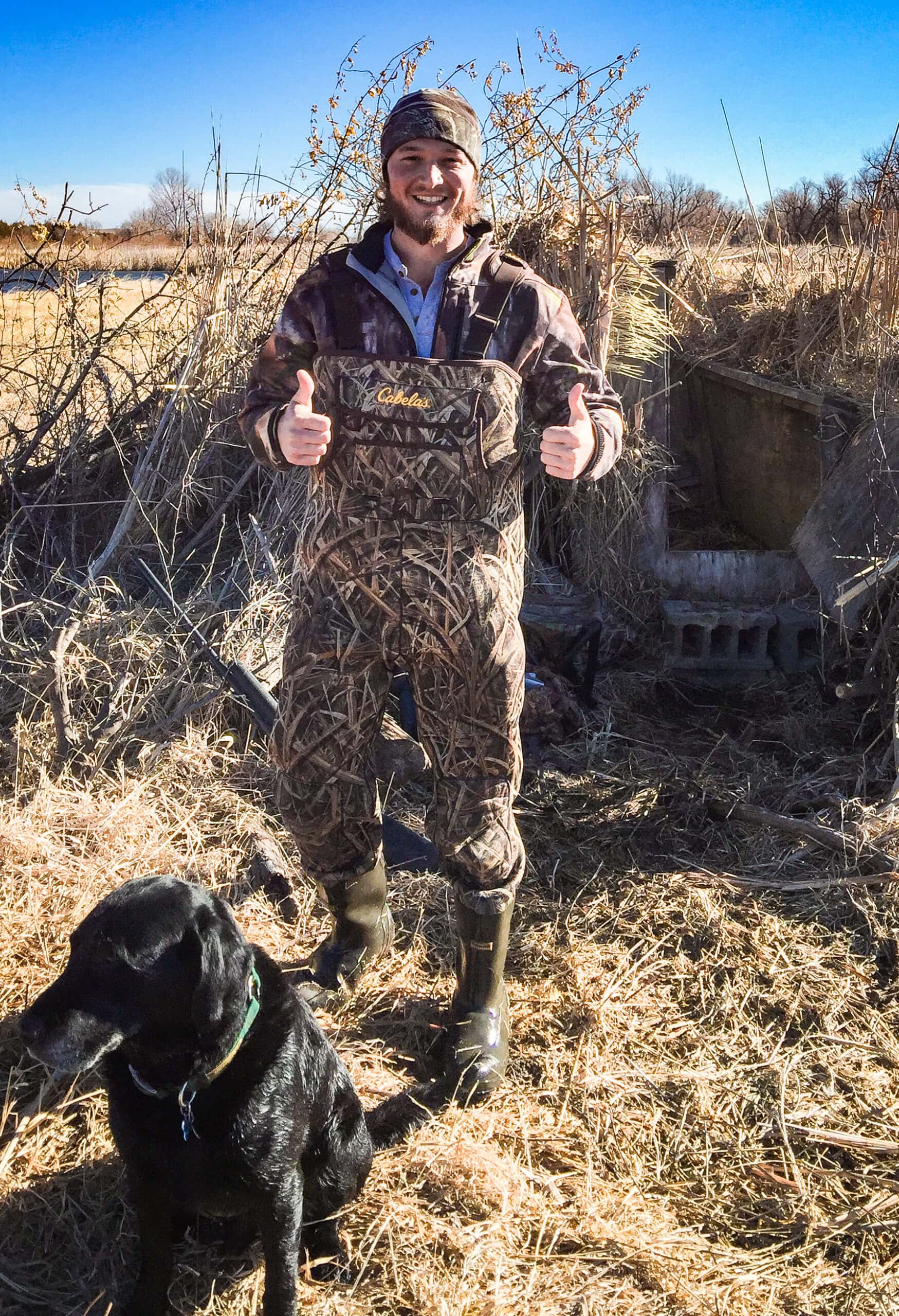 Agent Tyler Seno is all smiles after a fun duck hunt.
A non-resident youth

small game

hunter does not need a

small game

license if accompanied by an adult possessing a valid unexpired Wyoming small game animal license and conservation stamp in which case the nonresident youth's bag limit shall be applied to and limited by the small game hunting license held by the adult in their company.

UTAH:
BIG GAME AND TURKEY GUIDE BOOKS
Utah's Trial Hunting Program allows anyone age 12 or older to try hunting (small game, Turkey, Deer, Elk, Bear, Mountain Lion) for up to three years before completing the Hunter's Education program. (

https://www.wildlife.utah.gov/trial-hunting-program.html

)

Any youth hunter (under 13)

must be accompanied by an adult while hunting

small game and turkey
From Duke Boyington

[Broker | Utah]

"Anyone completing Utah DWR hunter education course receives a 365 day small game license at no additional cost.  In addition, 1,500 Deer archery permits are reserved for youth (18 or younger) after the general season permits sell out.
20% of Utah's general-season buck

Deer

permits are allocated to youth in the big game drawing. 

Youth who obtain a general-season any legal weapon

Deer

permit (for either the early season or the later traditional season), may use archery tackle to archery hunt the unit listed on their permit from Aug. 20–Sept. 16, 2022.  If youth haven't harvested a Deer by the time the archery season ends, they may hunt the same unit during the general muzzleloader and general any legal weapon Deer seasons— including the early-season general hunt, if it's offered in the  unit—using the appropriate equipment. 

Youth have the option of using archery tackle to hunt in the extended archery areas as soon as they are open to hunting. [Must complete the archery ethics course wildlife.utah.gov/extendedarchery ]

MONTANA
BIG GAME HUNTING REGULATIONS- 2022 
UPLAND GAME AND TURKEY REGULATIONS- 2022
An Apprentice Hunter is a resident or nonresident at least 10 years of age, certified at an FWP office. This allows the apprentice to hunt some species, while accompanied by a mentor, without first completing a hunter education course. The Apprentice Hunter may

NOT

purchase a

Mountain Lion, Black Bear or Wolf

license or apply for a

Bighorn Sheep

license or a hunting license or permit with a limited quota. The Apprentice Hunter may not purchase an

Elk license if he/she is under 15 years of age. Other restrictions apply. See website for details: fwp.mt.gov/hunt/ education/apprentice-hunter

Youth hunters and apprentice hunters (age 10-15) may hunt during the youth statewide two-day

Deer

hunt 

Some hunting districts offer special opportunities for youth (ages 10-15) to hunt

Deer

and

Elk

.

Youth

Elk

permits, and

Elk

B Licenses only for youth (age 12-15, with proof of hunters education)

Montana allows a terminally ill resident or nonresident youth under 17 years of age to receive a free one-time

Deer

and

Elk

License (must be accompanied by a licensed outfitter or an adult who has a license to hunt in Montana.)

Nonresident Youth Combination Licenses will be sold to nonresident youth who have an adult immediate-family member sponsor (applicant's natural or adoptive parent, stepparent, grandparent, brother or sister who is 18 years of age or older and possesses a current resident or nonresident

Dee

r or

Elk

license). The youth must be accompanied by the sponsor while hunting.
From Blayne St. James

[Broker | CO // MT // NM // UT]

"A youth may buy a general Deer and/or Elk tag over-the-counter if their parent draws the tag."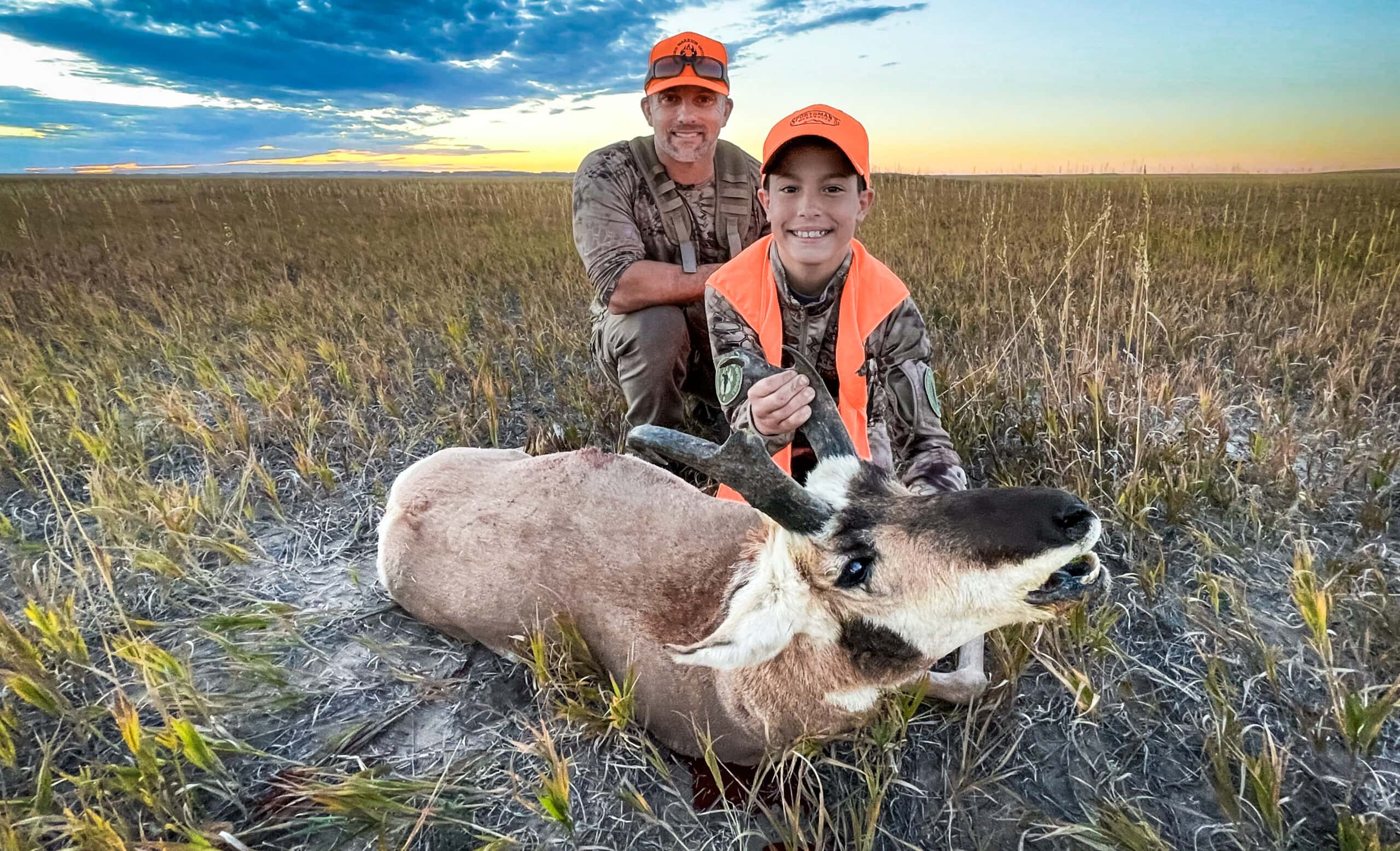 Blayne St. James and his son, Caden, with Caden's first Antelope.

NEW MEXICO
BIG GAME HUNTING REGULATIONS- 2022
Mentor-Youth Hunter:  First-time hunters (8-17 years of age) must pass an online quiz and receive a mentor-youth number. This number enables a youth to hunt under the supervision of an adult mentor, purchase a game- hunting license or game-hunting & fishing license. Mentor-Youth hunters 8-9 years of age may hunt

small game

only.

Mentor-Youth hunters 10-17 years of age may apply for or purchase hunting licenses for

Deer, Pronghorn, Turkey, Javelina, and small game.

Youth (17 or younger on opening day of hunt) only hunts are available, and youth must possess a hunter education number or mentor-youth number.  The mentor-youth number is valid only for

Deer, Pronghorn, Turkey, Javelina and small-game hunts.

If a license is ineligible for refund or transfer, a hunting license may be donated to NMDGF to provide an opportunity for a youth 17 years of age or younger, a resident veteran or a resident first responder who has been qualified through a nonprofit organization that promotes hunting. Refunds are not offered for donated licenses. 

Youth-only spring

Turkey

hunt held early April for OTC areas. Agent Darrell Fisher with the kids on a fun turkey hunt.

IDAHO
BIG GAME HUNTING REGULATIONS- 2022
UPLAND BIRD AND TURKEY REGULATIONS- 2022
Some controlled hunts are youth only (age 10-18).

Junior resident Elk hunters who purchase a general season Elk zone tag while they are between ages 10 and 17, inclusive, may participate in any A or B tag Elk season within the specified zone until they are 18 years of age, regardless of whether they purchased an A tag or B tag.  All other seasons, weapon restrictions, and commission rules apply. Controlled hunts are excluded.

Youth can purchase a three year license.

There is a youth-only (age 10-17)

Turkey

season one week prior to the general spring turkey season.

Hunting Passport holders who are 8 or 9 years of age may purchase turkey tags to participate in the following turkey hunts: general season, general youth-only, depredation, and landowner permission hunts with the appropriate landowner permission permit. Hunting Passport holders are not eligible to participate in controlled hunts.